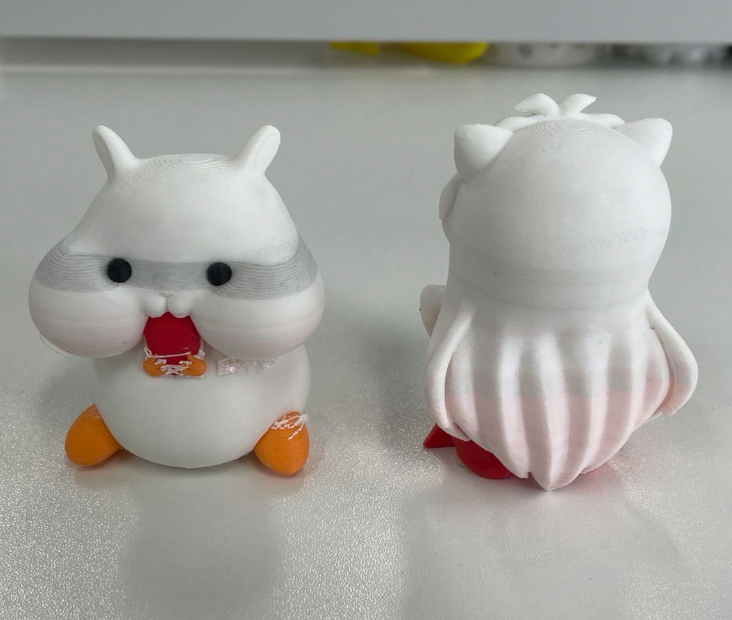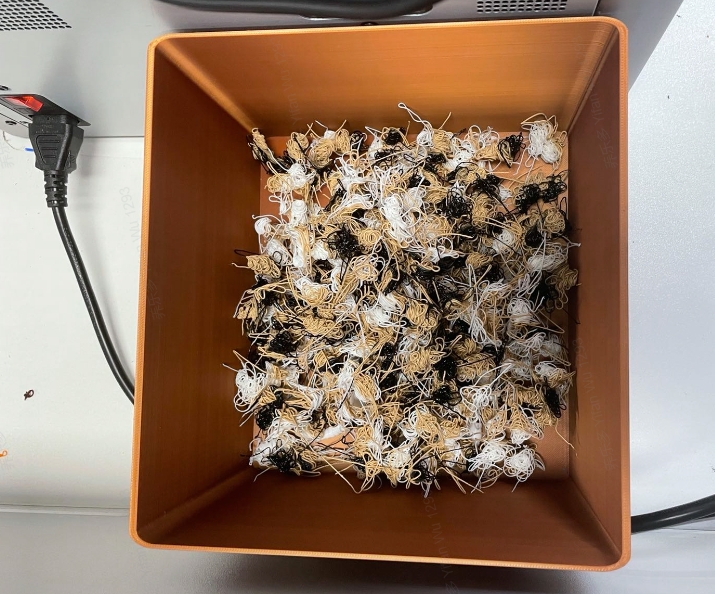 For a single extruder printer, each time a filament change happens, a small amount of filament is left in the extruder. As the new filament is loaded, it starts pushing the old filament outside of the extruder & nozzle. During this time, you'll see a gradual change in the color of the extruded filament.
To make sure the model's color is not messed up, it requires enough new filament volume (flushing volume) to flush out the old filament. But too much flushing volume means wasting filament and print time. That is what is to be optimized in this guide.
The flushing volume required during filament change is related to the color of the two filaments. For example, the flushing volume required from a black to a white filament is several times the amount from white to black.
Bambu Studio designs an algorithm to auto-calc the required flushing volume during tool change. It mainly considers both the colors of so-called "From" filament and the "To" filament. In addition, it also takes into account the support filament, and treats it differently to avoid "strength loss of the model" and "too sticky support".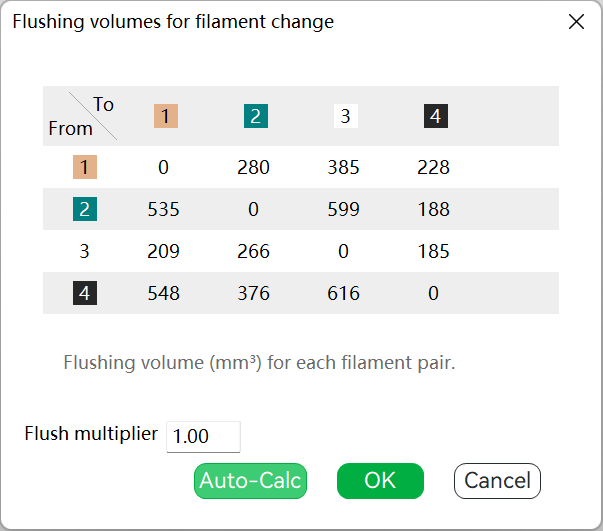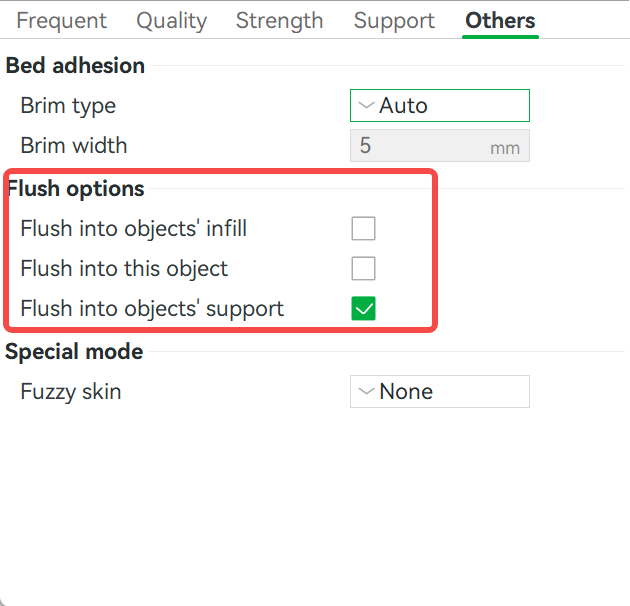 Since the support part of a model will be removed after printing, it can be printed with transition extrusions. For models with large area supports, enable on this option can reduce a lot of material waste and shorten the printing time.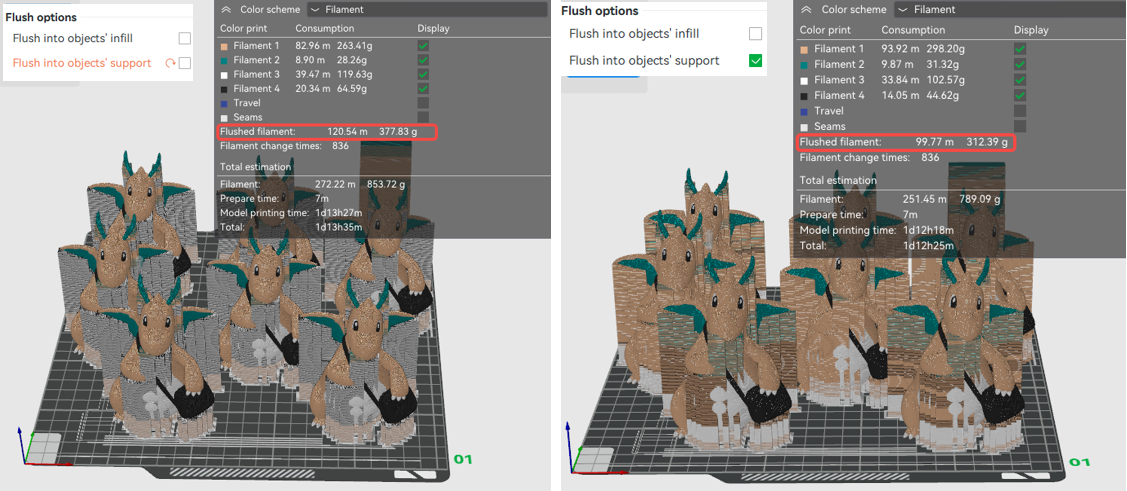 Most of the time, the inside of a model is not visible and can be printed with transition extrusions. This may save a lot of material and shorten the printing time for "large" objects.
NOTE: It is RECOMMENDED to enable this option when an object is printed with a totally opaque filament. Otherwise, the mixed-color infill may be visible outside.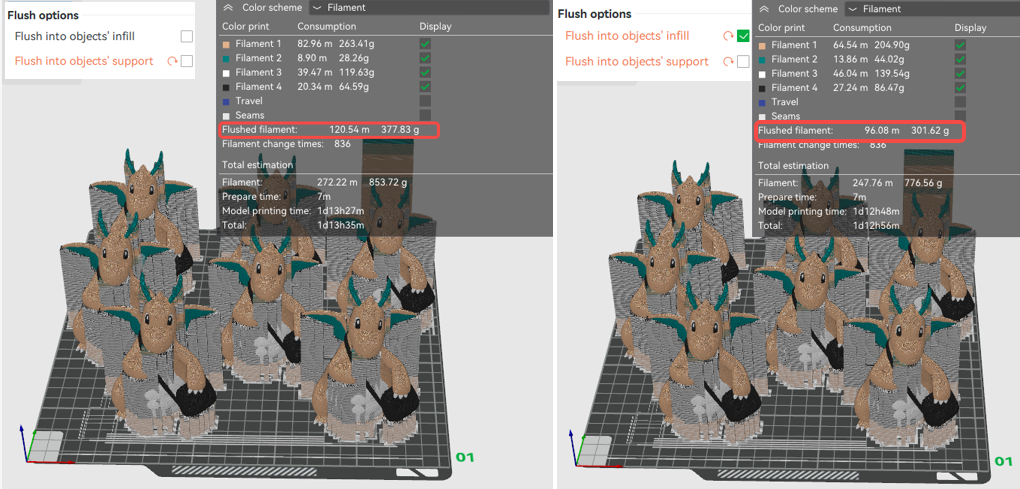 To further reduce the wasted flushing volumes, you can specify an object to be printed with the transition extrusions. As a result, the object may be of mixed colors. So please enable this option for the objects that you do not care about its color. For example, a gear inside a model car.