HMS_0300_0A00_0001_0003 The sensititvity of heatbed force sensor 1/2/3 is too low
" The sensitivity of heatbed force sensor 1/2/3 is too low. The electronic connection to the sensor may be broken. "
These error code below shows the same problem of different force sensor:
0300 0A00 0001 0003
0300 0B00 0001 0003
0300 0C00 0001 0003
Before sensing the force that applied on the hotbed , the printer with measure the sensitivity of each force sensor, after the measurement , the printer will then check if the sensitivity of the force sensors are normal , if not, the error will presented.
Below are the possible reasons that may make the force sensor sensitivity too low
The hardware connection between the MC board and the hotbed is off:

The hotbed signal cable connector on the MC board side was loosen
The hotbed signal cable was damaged;

the Z-axis motor is malfunction :

The connector of the z-axis motor is loose from the MC board;
The Z-axis motor is burned down;

The force sensor is malfunction.
¶ Safety warning and Machine state before starting operation
Make sure the hotbed has been cooled down and the ground wire of the power plug is truely connected to the ground
turn OFF the printer , and disconnect the power cord.
Remove the 10 screws and 4 screws from the rear cover shown in the picture. There are 2 types of screws, so keep them separate and remember which ones go where.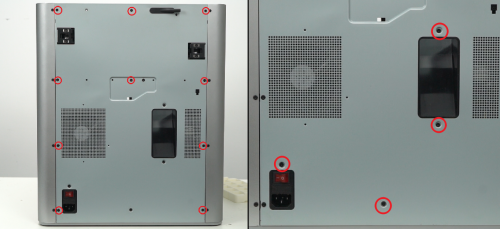 Remove the rear cover, unlock the left side belt tension ports first and then the right side one, to avoid getting stuck.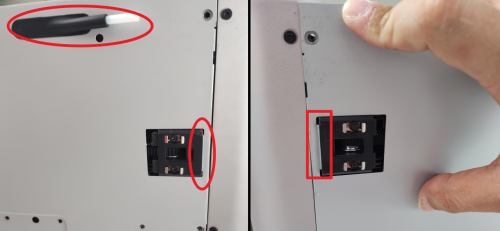 As shown below , the hotbed signal cable connector is "J2613" , pointed by the red arow: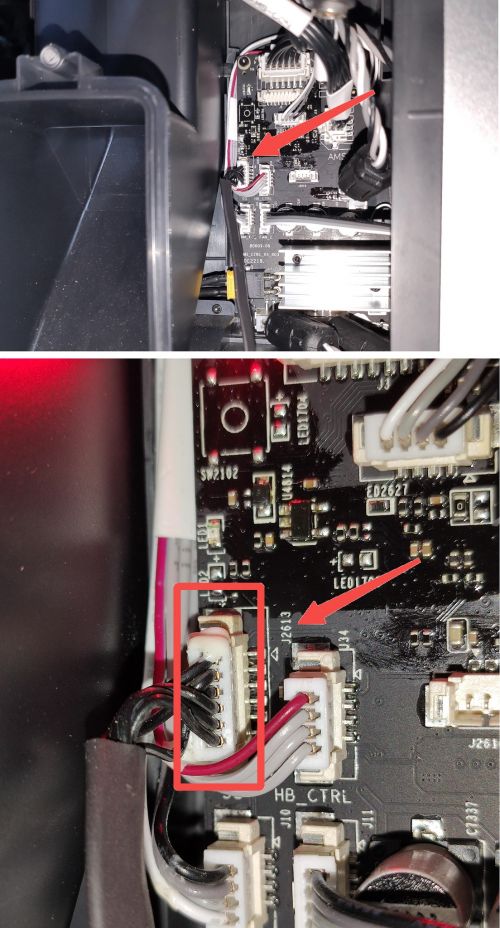 Check if each connector of each wire of the hotbed cable is loose. If it is loosened , re-insert it ;
If none of the wire connector is loose, clean the glues around the whole connector , then re-plug the whole connector.
Then power on the printer, try home again, to see if this error disappeared
If step3 does not work, then the force sensor might be broken, and need to be replaced. See "Replacing the hotbed force sensor".