HMS_0C00_0100_0002_0007: Micro Lidar laser parameter drifted
Since we have two lasers on the Micro Lidar, measuring the depth of the same point using the two lasers should give the same result. If the results are different than a given threshold, this message will appear, indicating that the parameter of the two lasers are no longer correct.
The laser parameter encodes the spatial distance and angle (i.e. transformation) between the laser and camera. They are supposed to rigidly connected. However, the connection is not strong enough to resist the vibration of toolhead. During long-time usage, the transformation may change, and the laser parameter is no longer accurate. We call this phenomenon "drifting".
Solving the issue is easy, just run the calibration.
Enter the screen calibration page, click to start calibration, wait for the calibration to end.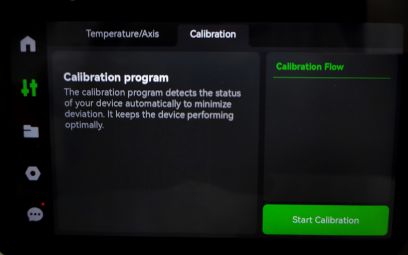 Restart printing and check if the error message disappears
If the message is still there, check if the calibration marker is clean and uncovered.
The message should disappear if problem solved.