High printing speed means more vibration, higher contact force, and shorter time for cooling. It is extremely challenging to print at high speed under the premise of quality. Challenges are not only on the printer, but also on the slicer. Bambu Studio made this happen with these improvements.

These improvements are shown below.
"Arch Move" makes the toolhead move smoothly and reduces the machine's vibration.
Smart cooling based on fine-tuned cooling parameters for each filament type
Auto slow down for overhang walls to prevent deformation at high speed
¶ Arc move – smooth path and reduce vibration
3D models are mostly expressed as triangular mesh, which means that the final slicing and printing path are dense line segments. When the printer is slow, these dense paths have no obvious bad influence on print quality. But when printing speed is high, A lot of transient impulse signals will be produced at the turning point of the segment, which brings about noise and vibration.
In order to alleviate this problem, Bambu Slicer generates arc path by fitting within a certain acceptable tolerance. The arc fitting method is based on ArcWelderLib. Sincere thanks for opening the source code for such excellent work.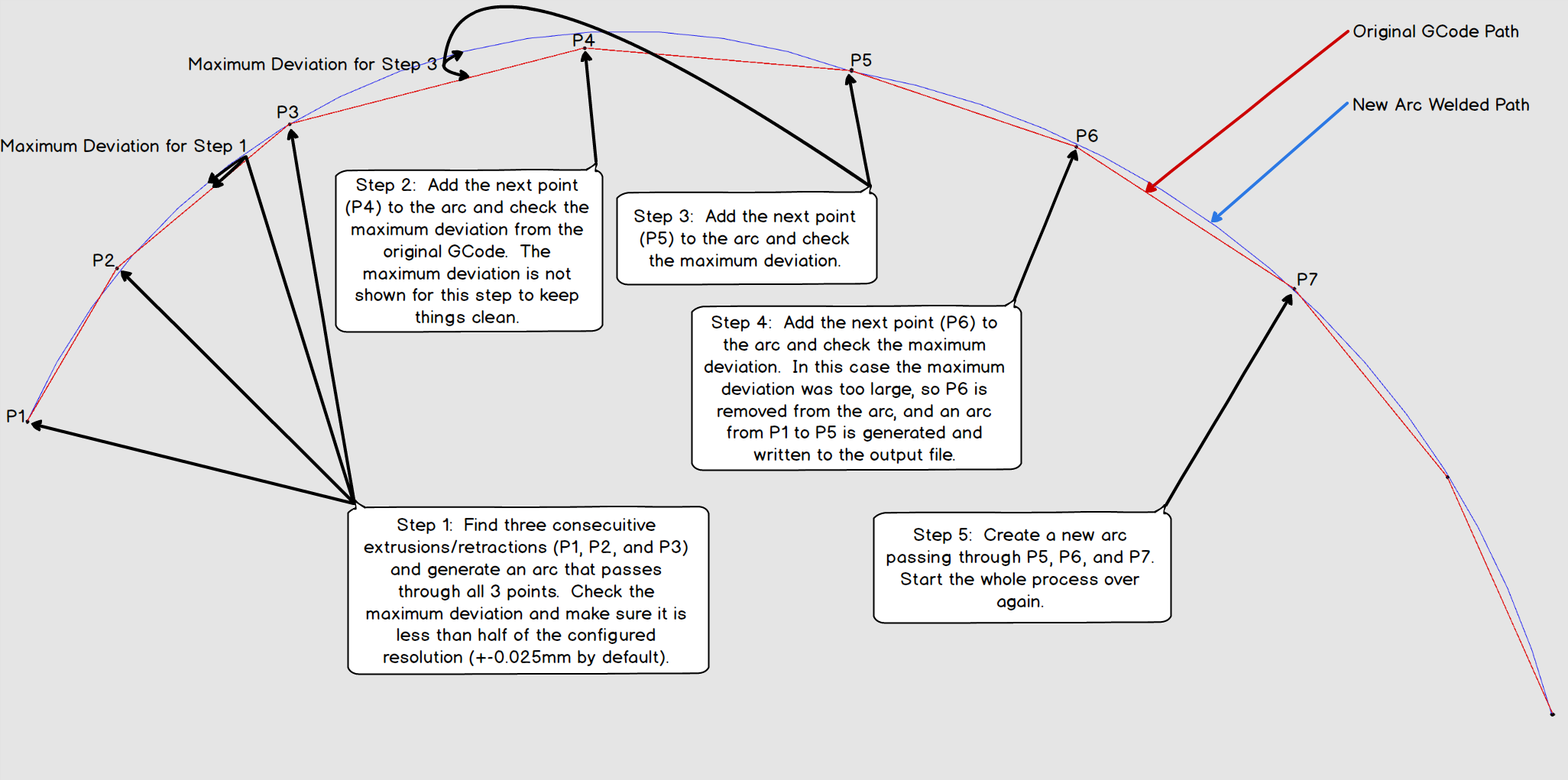 This can reduce the number of turning point of segments and make path more smooth, and reduce the vibration in a fast print.
We printed one model twice and record the video to compare noise , vibration and quality.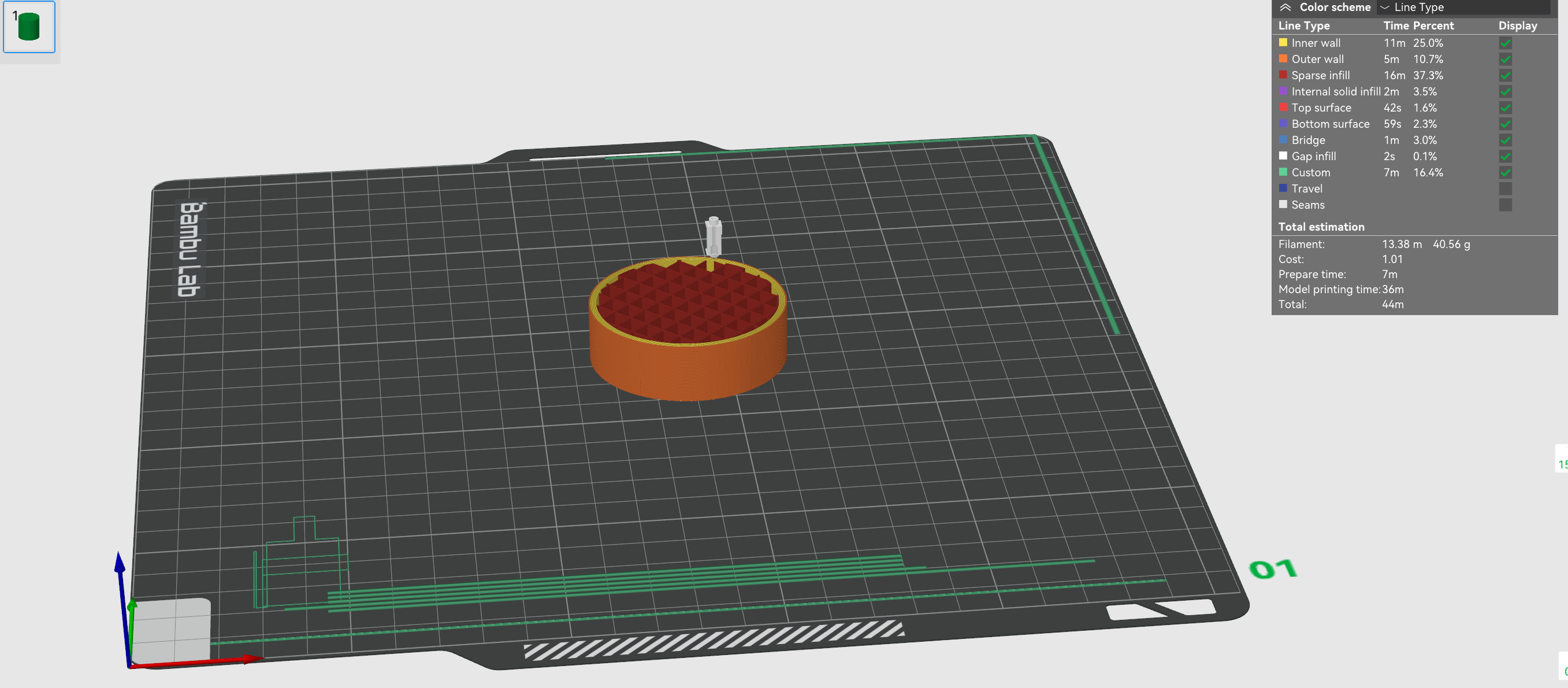 Video:
Quality comparison is shown below. The left is enabled arc move. The right is disabled.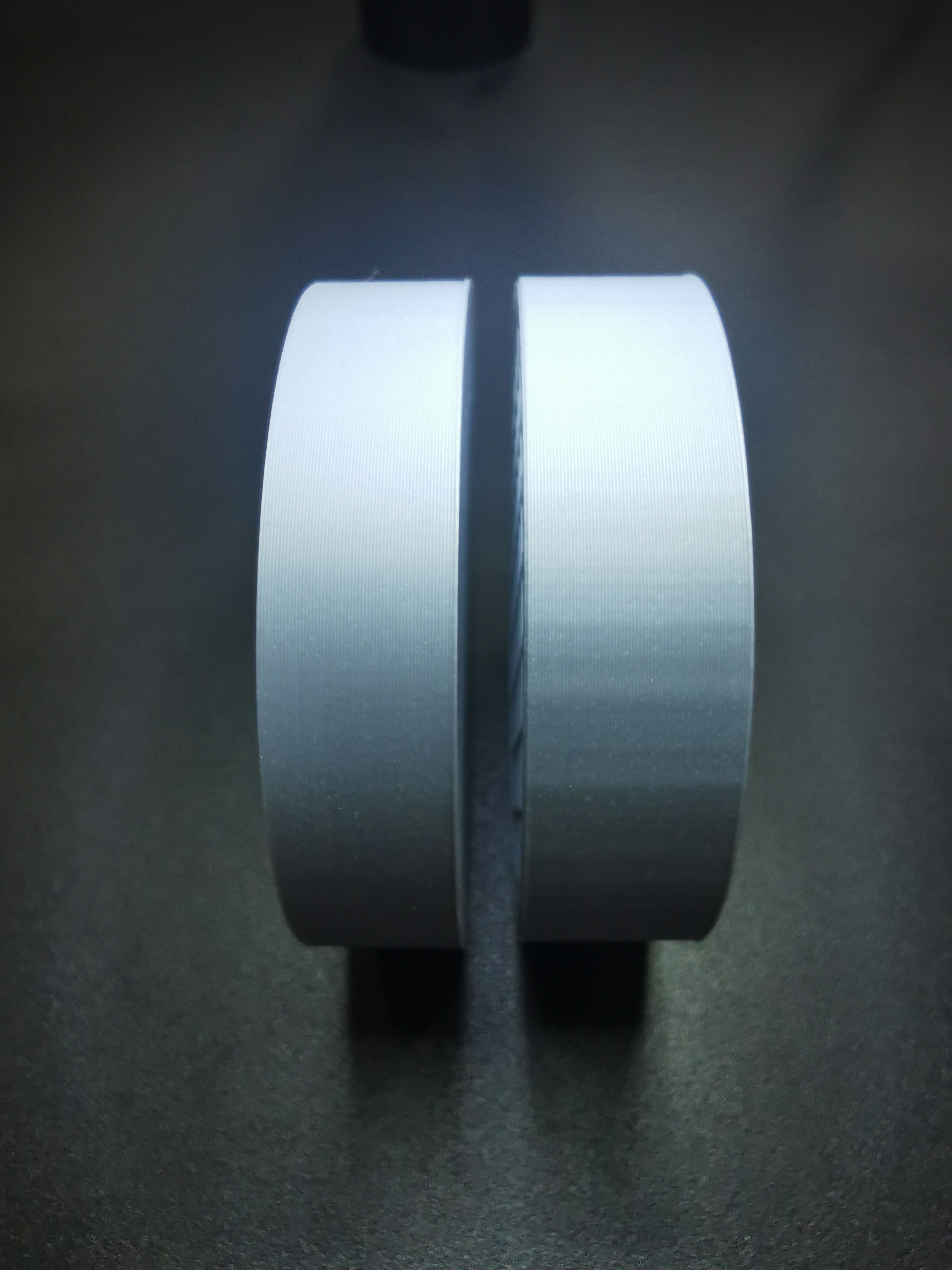 The chord tolerance of arc fitting is the same as the resolution setting in Bambu Studio.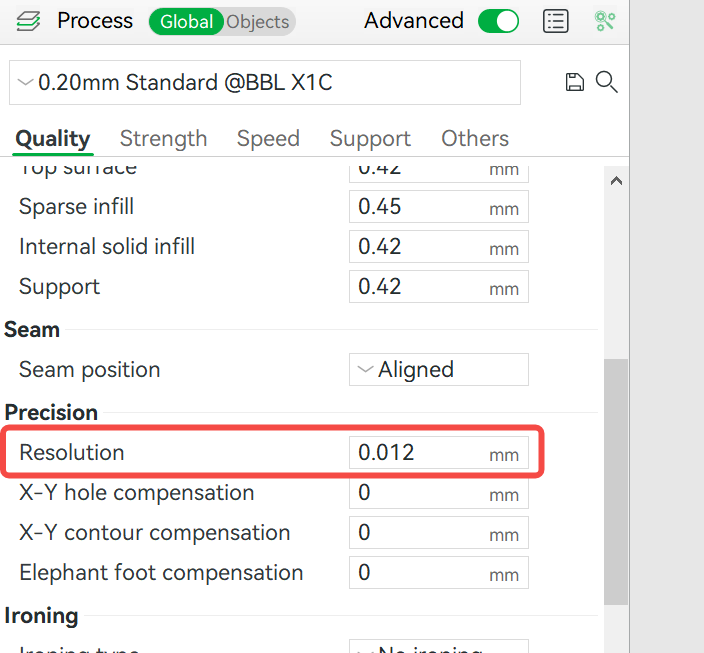 So arc fitting may be failed when the model mesh is of low accuracy or the value of the resolution setting in the slicer is too small. We recommend importing the model by STEP file directly into Bambu Studio and slicing with the default resolution setting, which can retain more details of a model and make more arcs fitted.
Cooling is of great significance for FDM printers. Bambu Slicer has a group of cooling settings to control fan speed and printing speed in filament, and all settings have been fine-tuned, which means that users can directly use Bambu filament to print fast without changing any cooling settings while getting pretty good quality.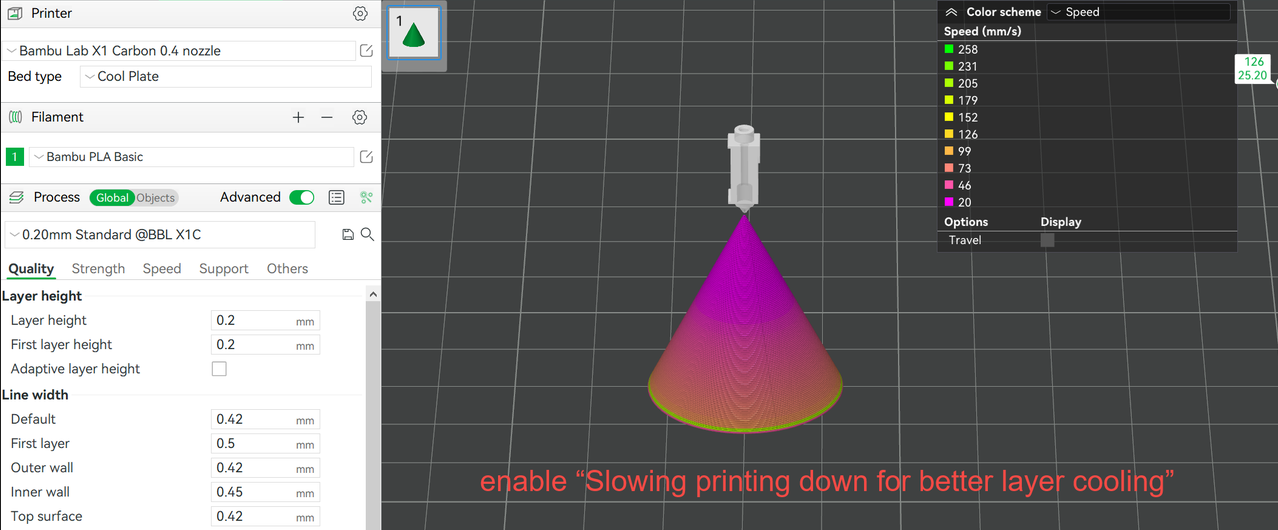 Detail descriptions about cooling settings can be get from this page Auto Cooling in Filament Settings.
Outer wall speeds have a great influence on the surface quality of a printed model, especially for overhang surfaces. Generally speaking, Overhang's have no problem when the whole printing speed is slow. But for high-speed printing scenarios, too fast wall speeds will make overhang quality very bad, even though the layer area is large so that layer printing time is long and layer cooling is enough. Bambu Studio can calculate the overhang degree of every segment of the wall and use a slower speed for the overhang part only. This can make the overhang surface much better while keeping most non-overhang parts printed fast.
Comparisons of slicing and printing are shown below: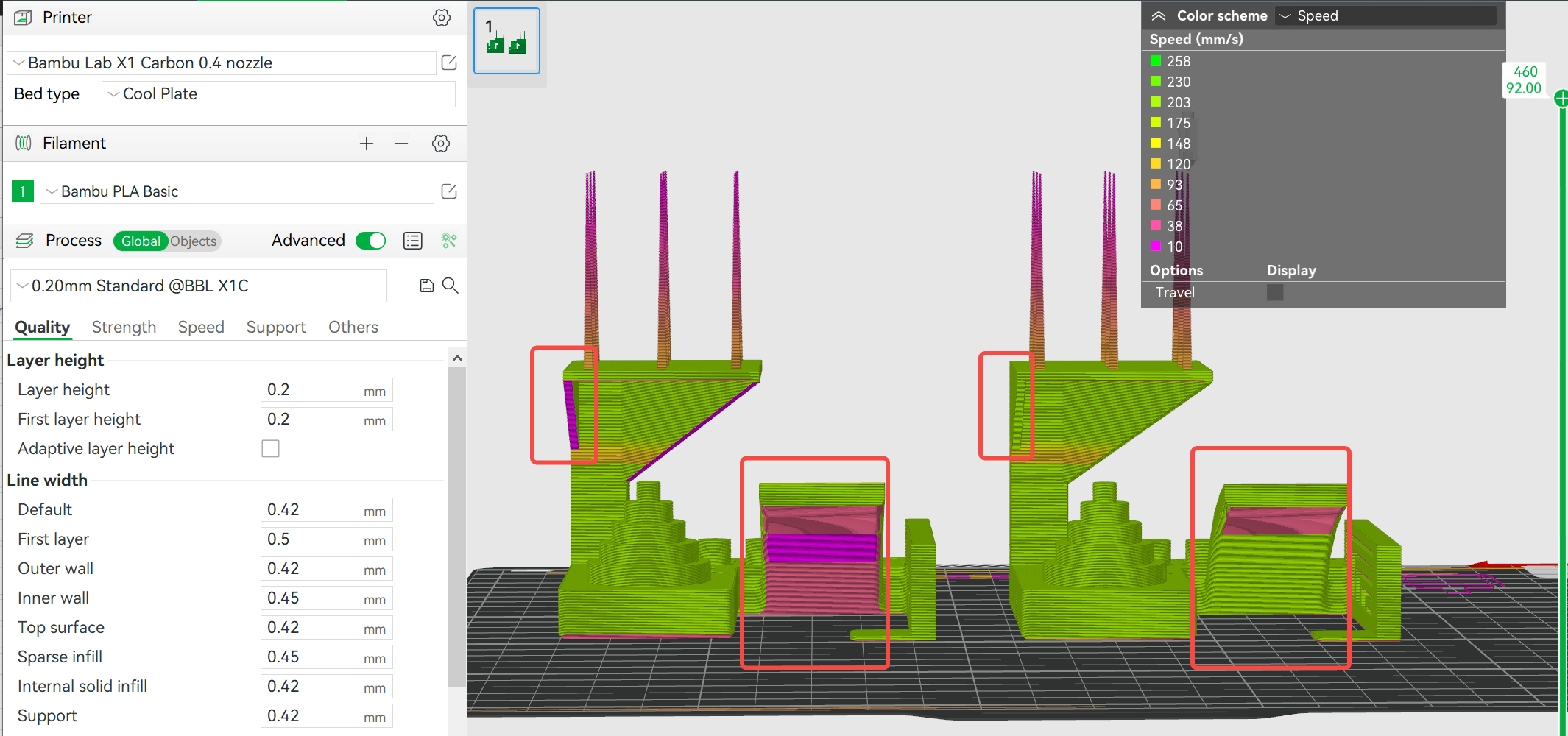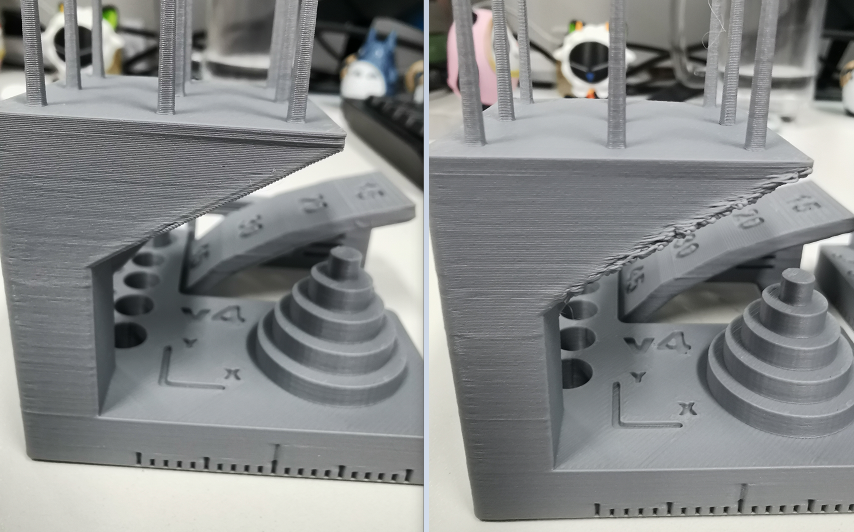 More detail can be gotten here Slow Down for Overhangs.