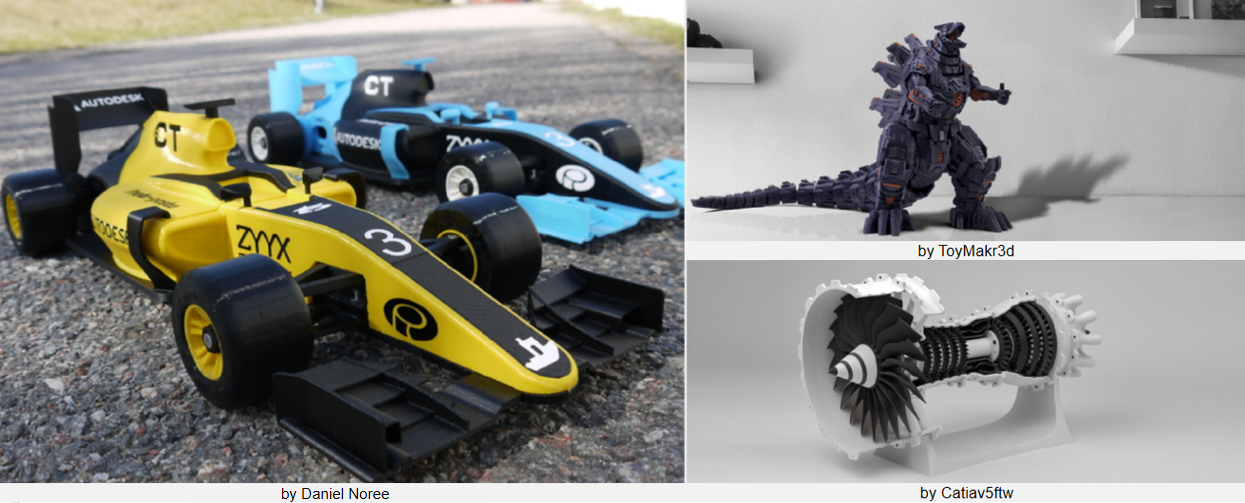 A lot of amazing 3D print models are composed of dozens or hundreds of objects.
Although extremely attractive, there are many challenges when a user actually begins to build them, the most common ones are
Printable objects need to be manually arranged from several to tens of project files. Re-arranging the objects among project files is tedious and error-prone
Tunning slicing configs requires knowledge of 3D printing. Even for experienced users, it may also be time-consuming and may encounter problems in actual print
Hard to freely customize the color of the model due to no overall preview
It is not easy to gather the printing failed objects scattered in various project files to re-print them
Some of the important guide files are missing
Bambu Studio provides the following key features to fix these pain points and make 3D print workflow much smoother than ever for both content creators and end-users.
Bambu studio's great progress in the workflow is to support a multi-plates mechanism. It places tens of hundreds of objects on multiple plates orderly, and each plate represents a printing task. Compared with placing these objects in multiple project files, a single project file has a global perspective of the model, allowing users to easily plan the objects placed in each print task (by dragging objects between different plates in 3D scene).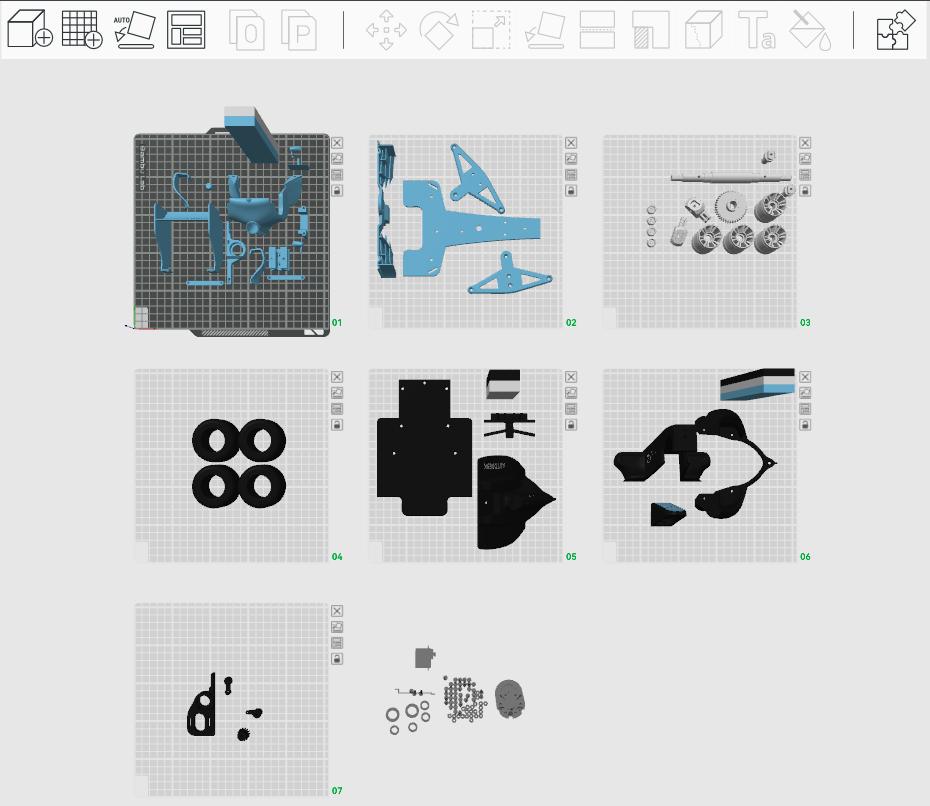 At the same time, the multi-plate mechanism is also the basis for switching between part and assembly form
For detail, please refer to plates_management


Project resource files contain all auxiliary resources that are necessary for a project.


Pictures
Contains the cover of this project, different color schemes, an actual printed model, etc.
BOM
Bill of Materials. Contains all objects, especially the sourced part(unprintable part). Users need to prepare all the sourced objects before assembling the model.
Assembly Guide
An assembly Guide is very important for a model that contains dozens or hundreds of objects. It guides the user to assemble the model step by step.
Text Note
The author may tell the user some notices about this model.
For details, please refer to project-resources


¶ Switch between Objects and Assembly Form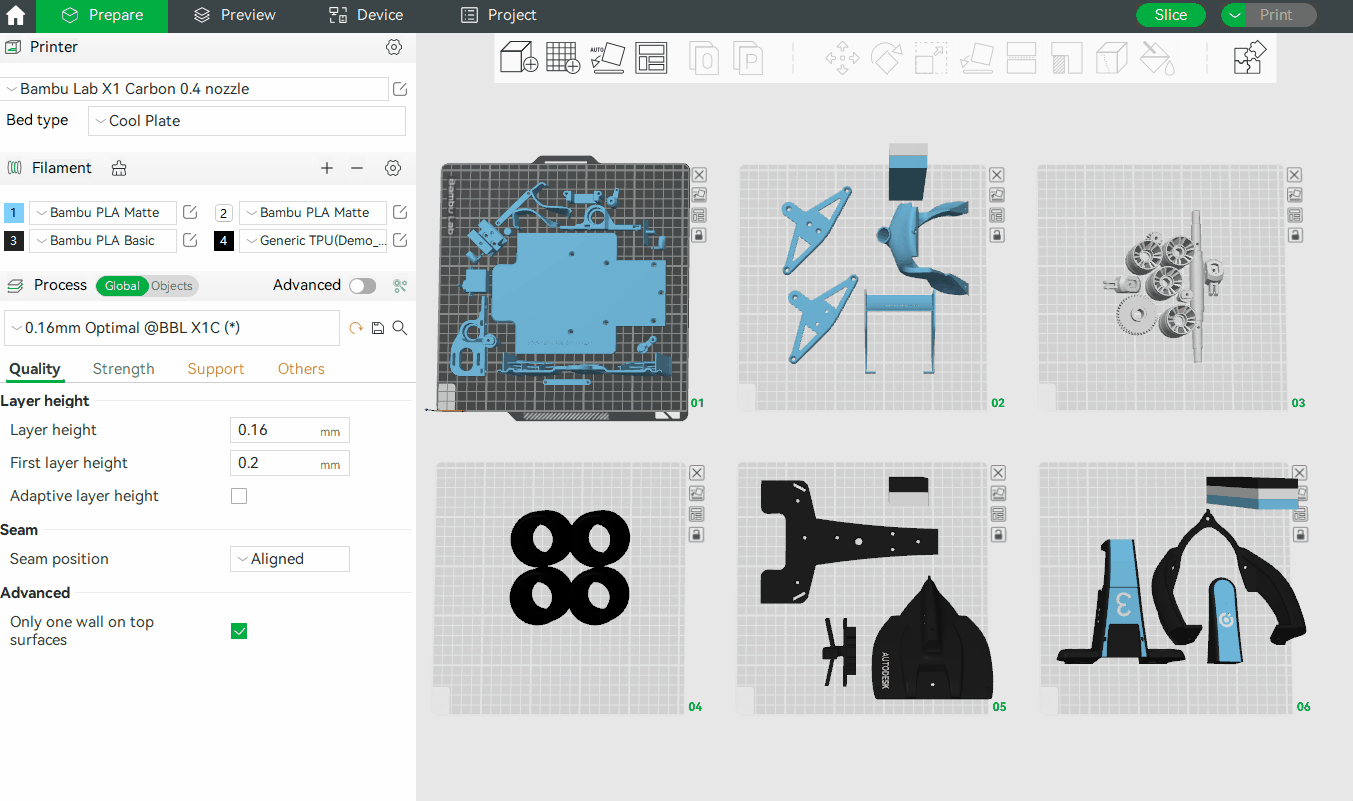 Parts View
Splitting a model into parts makes it easier to print. The user can print parts with different colors even without an AMS device.

Assembly View
Assembly view is particularly useful in colorizing models, setting slicing parameters for parts, and assembling printed parts.
In Bambu Studio, you can switch between them freely.
NOTE: Assembly form requires that the original import model is an assembled one, like a STEP file.
3MF file is actually a zip and is much smaller than STLs. It holds everything necessary in a project, like
3D geometry data of all objects
All slicing parameters and modifiers
Objects arrangement in one or multiple plates
Objects geometry relations before splitting, which may be used to restore the assembly view
Color information
Manually created support
Project resources (BOM, Assembly Guide, Pictures, etc.)
Author information
¶ Workflow for Creator and End-user Roles

Importing a step file format is recommended. Compared with STL, it provides more important information for the project.

All settings and project files are ready in a single 3mf file and can be used directly.
No multiple project files(each for a print task), no cumbersome model coloring, no complicated parameter tuning, and no need to worry about the loss of important resources like BOM and assembly guide in the process of model propagation.
Furthermore, even if the model has been disassembled into scattered parts, the user can still view the complete assembly form and explosion form of the model in the assembly view. This provides great convenience for the user to customize the model colors and is helpful during the model assembling procedure.
NOTE: This requires the author imports a STEP model.
Download: OpenRC_F1_v2.3mf

This work, "OpenRC_F1_v2", is a derivative of "OpenRC F1" by Daniel Noree,used under CC-BY-SA." OpenRC_F1_v1" is licensed under CC-BY-SA by Bambu Lab.