The auxiliary part cooling fan is a powerful 12W cooling fan installed on the left side of the chamber, it provides a better cooling condition for high-speed printing.
| | |
| --- | --- |
| Old version | New version |
Damaged blades, or a faulty fan motor.
Update X1 with an auxiliary part cooling fan.
Auxiliary part cooling fan
H2.0 hex key
Tweezers.
¶ Safety warning and Machine state before starting operation
Prior to commencing with the process in this guide, please make sure the machine is switched off and that the AMS along with the PTFE tube and filament buffer are removed
Undo the screws at the back of the printer as marked below. There are a total of 14 screws to undo, 10 of them in the first image and 4 in the second image as shown below.
To remove the rear cover, it is important to first pull the left side so that the left belt tension port doesn't get in the way, followed by the right side. Push the PTFE tube outlet inwards to free it from the cover.
Locate the connector of the aux fan on the MC board, and then disconnect the cable.
Pull the cable toward the fan, and then detach the fan by force.
Pull out the fan cable toward the fan, use the H2.0 hex key to unscrew the 3 screws that fix the fan, then separate the fan from the side panel, and remove the fan.
Follow the How to reattach the auxiliary part cooling fan to attach the new auxiliary part cooling fan.
Pass the fan cable through the inner holder, tear off the double-sided adhesive protective paper on the fan, install the fan in place according to the position of the stud, and then lock in 3 screws to fix it.
Pass the fan cable through the gap between the side panel and the inner sheld, and connect the cable to the connector on the MC board.
First, pass through the tube bracket and then secure the right side of the back cover past the right belt tensioner as shown below, followed by the left belt tensioner.
Screw the back panel back on. Take note of the different types of screws (10 and 4) used as pointed out previously
Connect the power cable and turn on the printer, and operate on the screen to turn on auxiliary part cooling fan.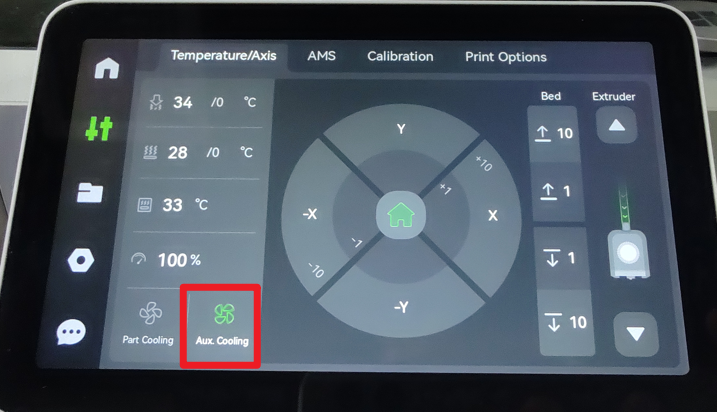 If the auxiliary part cooling fan works as expected, and the replacement is done and successful. Otherwise, retrace your steps and check the connection to try again. If problems persist, contact the service team for further assistance.