¶ Tip: Due to the limit of max volumetric speed, when using 0.2mm nozzle for multi-color printing, the flushing speed will be very slow when switching filaments and may need to wait for some time.
¶ Load filaments to AMS and configure filament information
Before multi-color printing, you need to insert the AMS with filament and configure the filament information. If you are using an official Bambulab filament, the AMS will automatically recognize the type and color of the filament via RFID. If you are using a third-party filament, you need to configure the corresponding information manually. For details, please refer to AMS setup and loading filament.
¶ Slicing and sending print jobs in Bambu studio
After configuring the information in AMS, you need to set up and slice the multi-color model in Bambu Studio. For specific coloring and parameter Settings, please refer to Multi-Color Printing.
Note: the number in front of each color in Studio is simply the sequential number of the filament, not the AMS slot.

When printing from Bambu Studio, it will automatically map the same kind of filament with the closest color first, and you can modify it manually.
Before sending the printing job, pay attention to the pop-up window to make sure that the slot of each color selection is consistent with your expectations. If a slot shows "?", it means that a third-party filament is being used and the filament information has not been configured, but you can still select it for printing (be careful to ensure that the filament in this slot is the same as the type selected for slicing).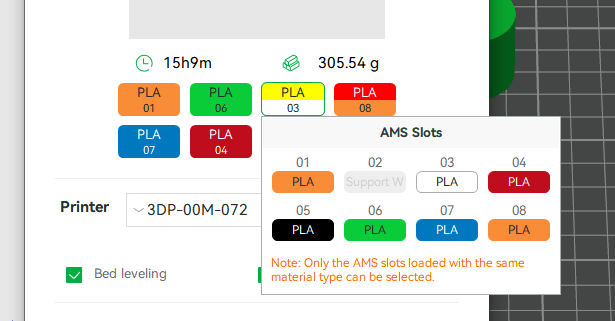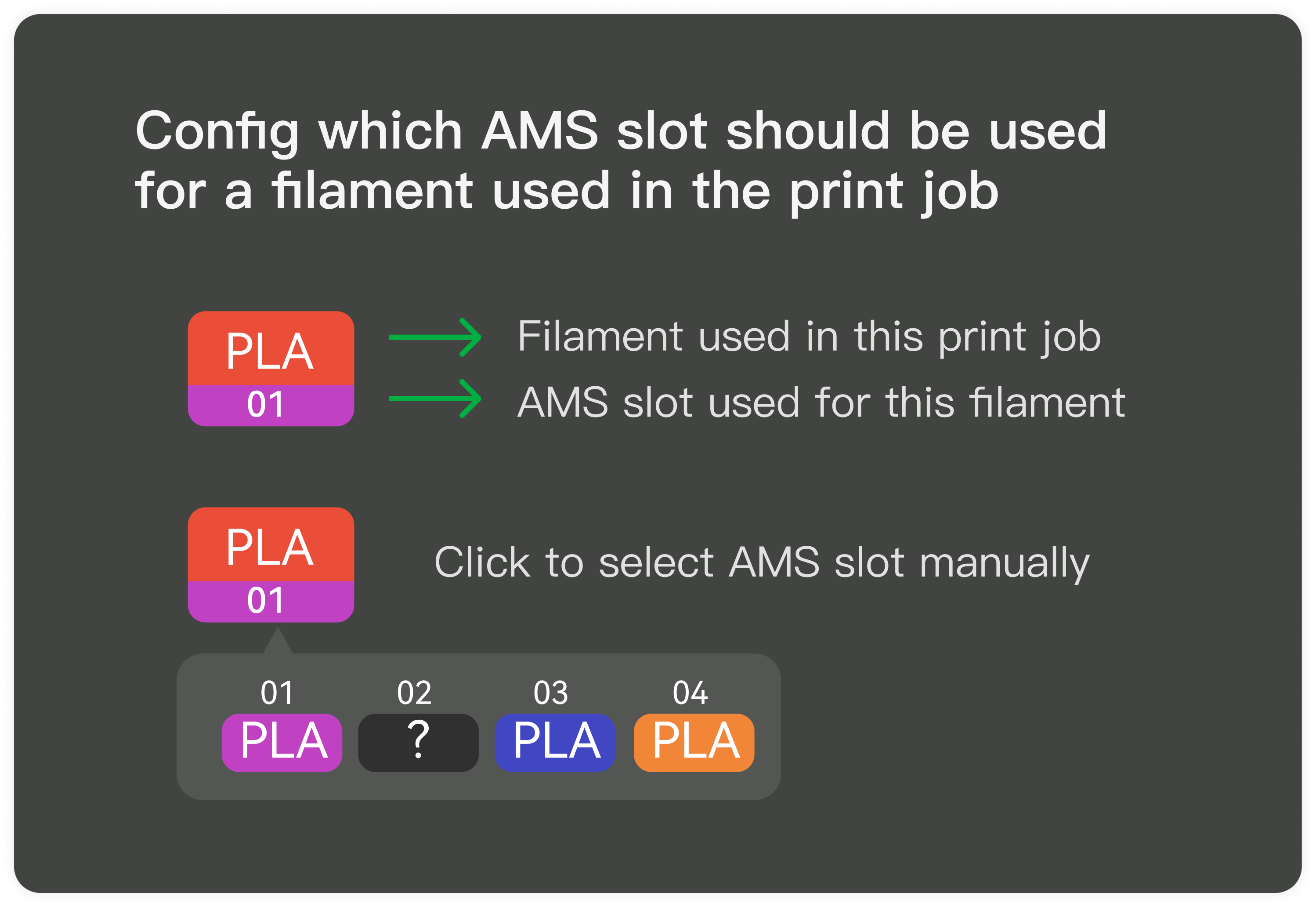 If you are starting a print job with the SD card, there is no need to pre-select the AMS slot information when slicing in Bambu Studio, you can just slice the model and import the sliced file to the SD card.
After selecting the printed file on the SD card, it will first automatically map the slot that matches the filaments of the same kind with the closest color, as shown in the figure below: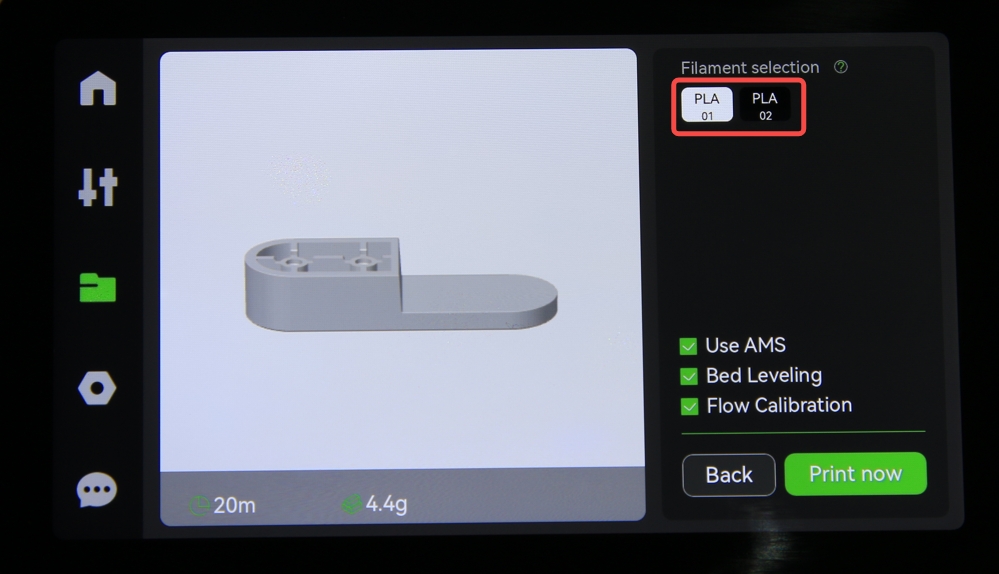 If you want to modify the mapping, you can manually select the slot corresponding to each color on the screen.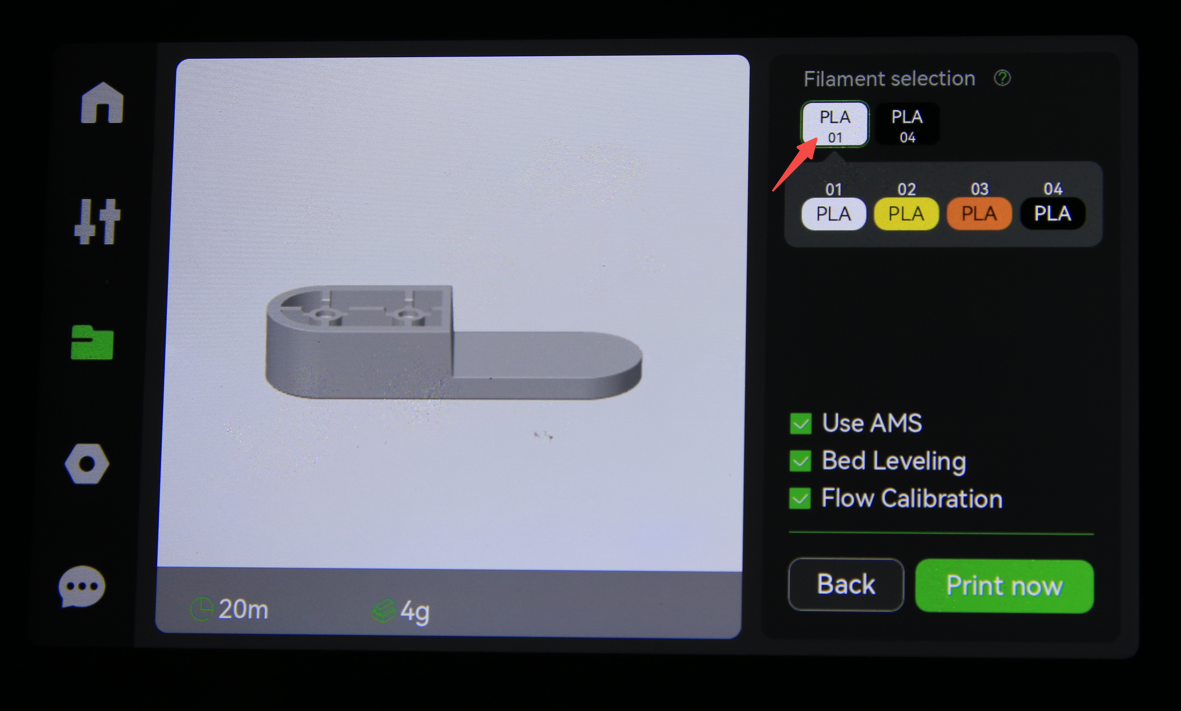 If the type of filament used for slicing is not the same as that on AMS, the filament cannot be selected for printing. For example, in the following figure, you can select AMS 1/2/4 slot to print PLA slice files, but the ABS in slot 3 cannot be selected.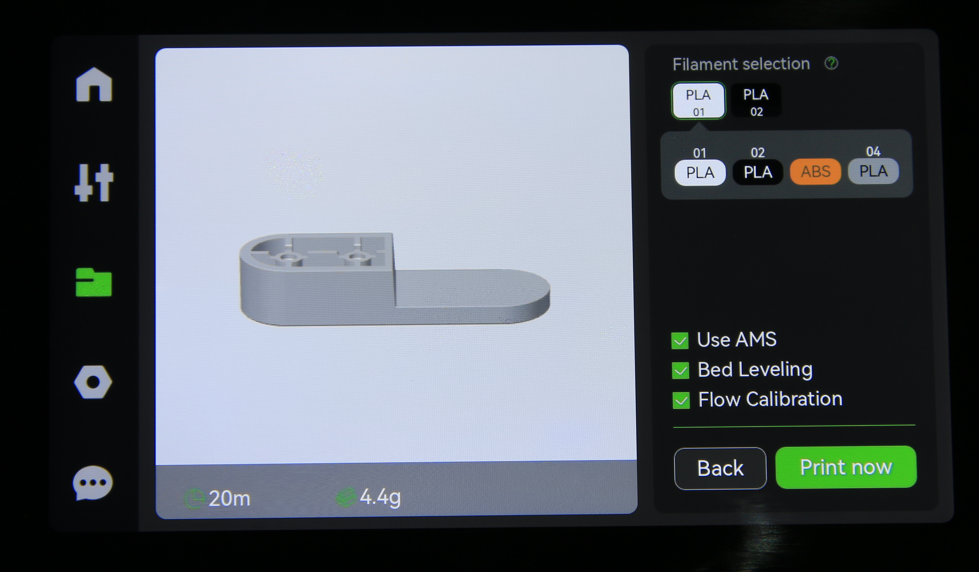 Printing the printer's built-in model is a special case. Currently, it only supports printing from the first slot. It is not possible to manually select the slot. You need to place the filaments according to the sequence prompted on the screen. You can see the prompt on the preparation page.