Bambu Studio supports full remote control and monitoring of the printer via network(WAN/LAN). These are a few of the features:
Remote Printing
Send a print job to the connected printer via network

Control print job
Show the progress of the current print job. Start, stop or just pause your current print job, you are in full control at any time.

Play webcam LiveView
Play the webcam LiveView and watch remotely what your printer is doing

Control printer
Bed temperature, nozzle temperature, speed level, fan on/off, move the tool head along XYZE, calibrate the printer, AMS setting

Update device firmware
Update the firmware of the printer & AMS via network

Two network modes
Support Auto (use WAN and LAN accordingly) and LAN-only network mode
Bambu network plugin is required for the remote control & monitor features in Bambu Studio. If it is not installed, You cannot send a print job via network and the "Device" page will be unavailable.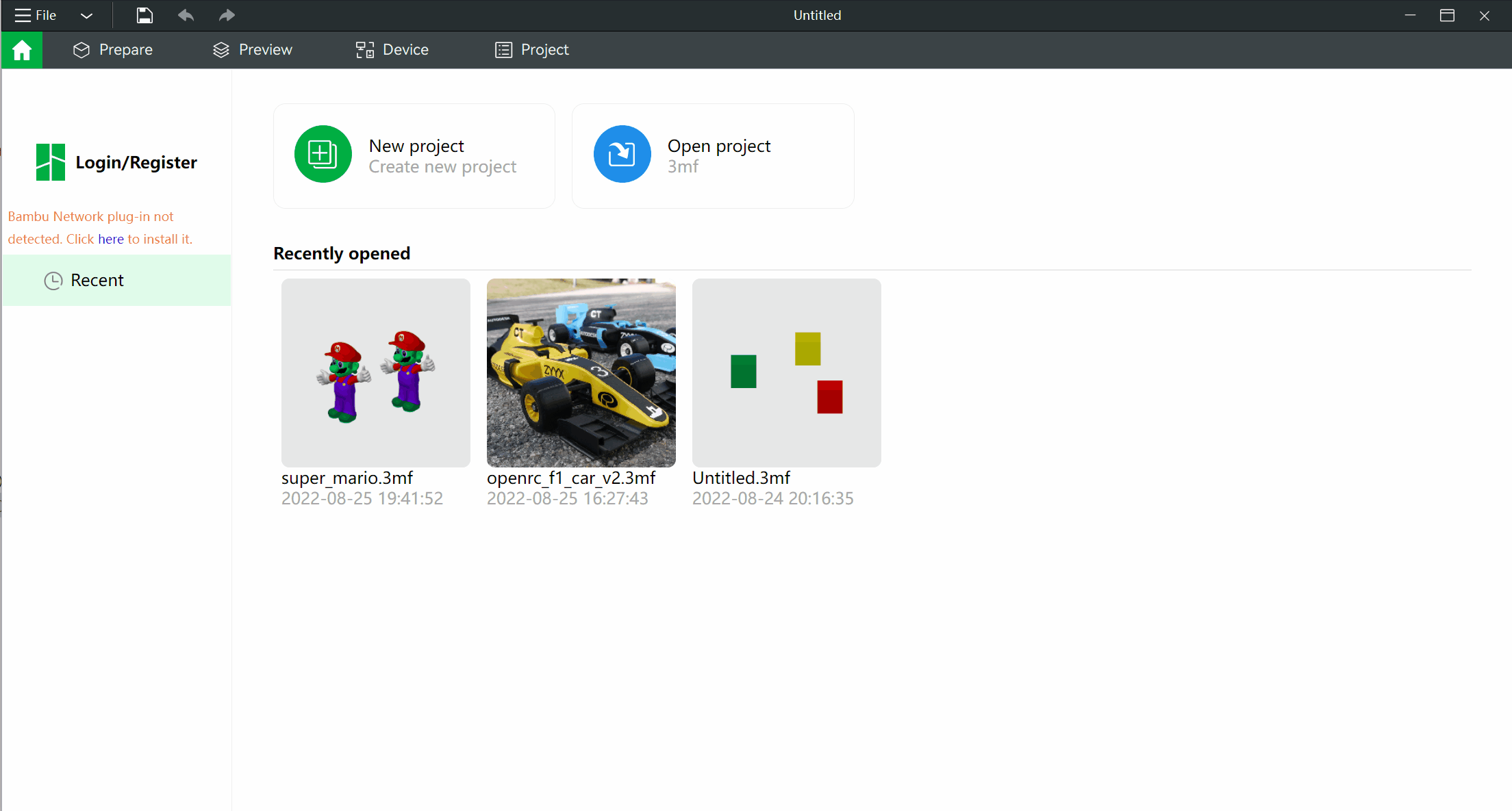 You need to log in first from the 'Login/Register button on the first page.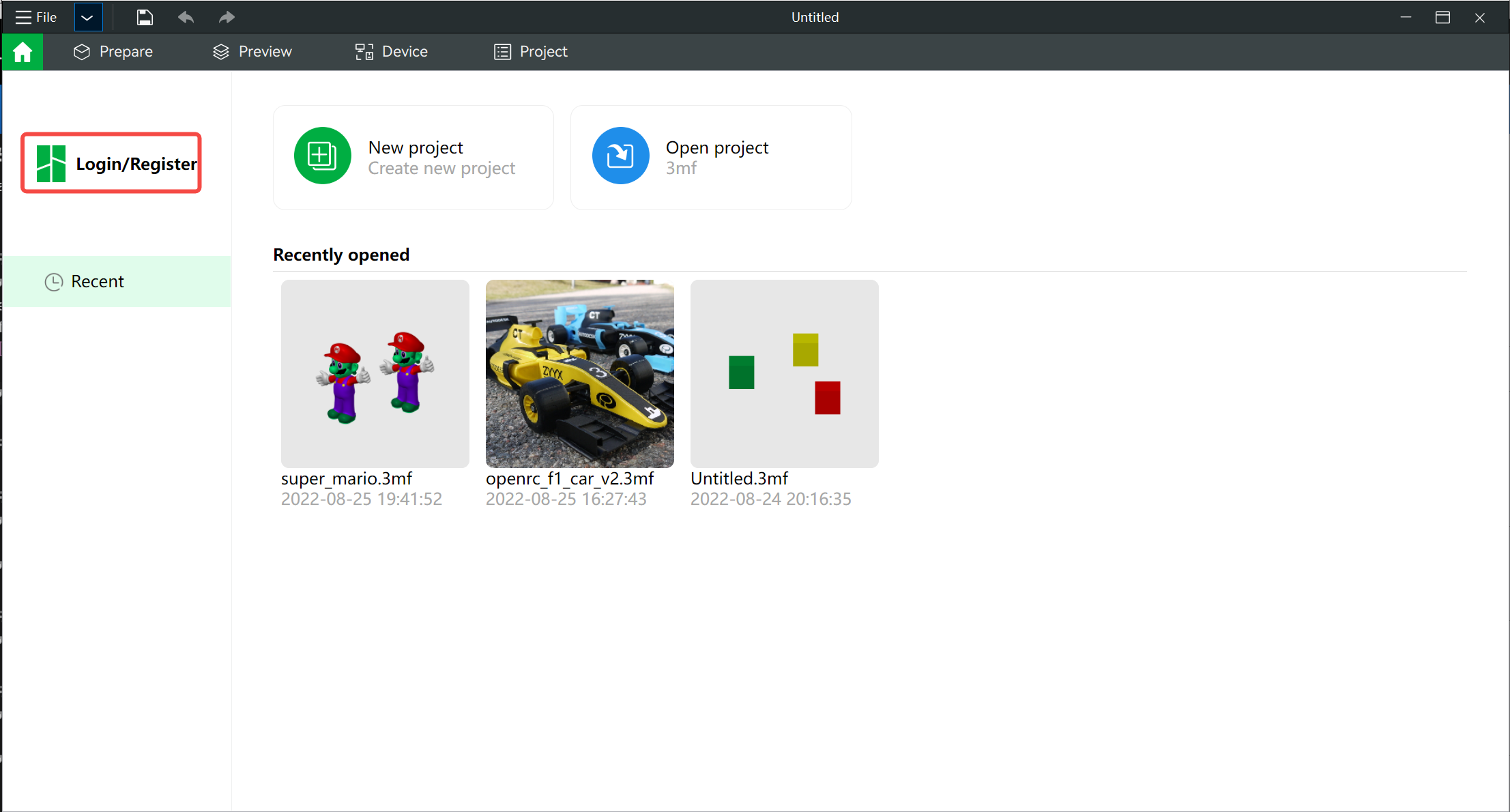 If no printer is bound to your account, you can bind a printer found in the same LAN.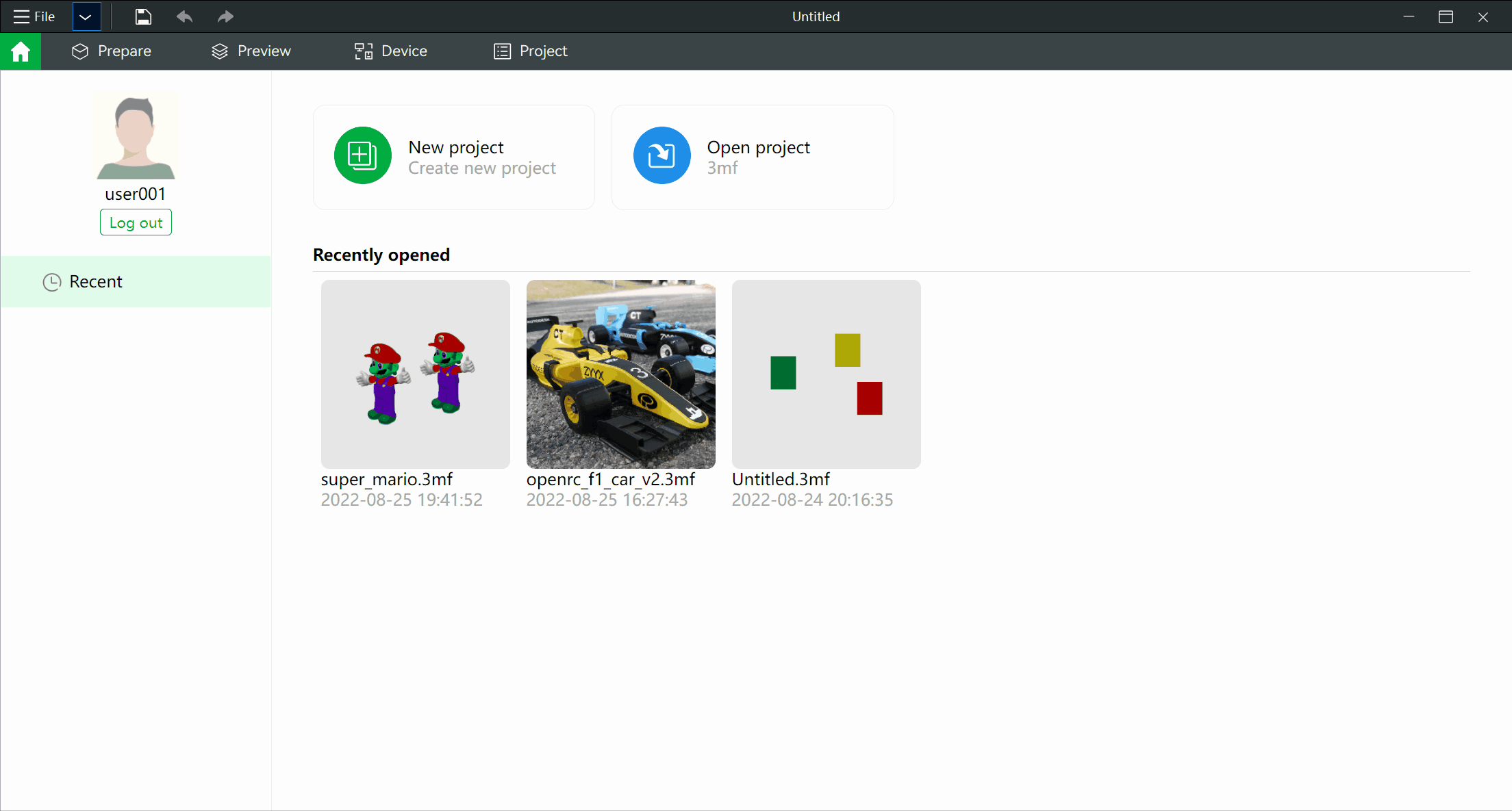 We can also bind other printers using the same steps.
If we have bound more than 1 printer, we can select a different printer through the printer list.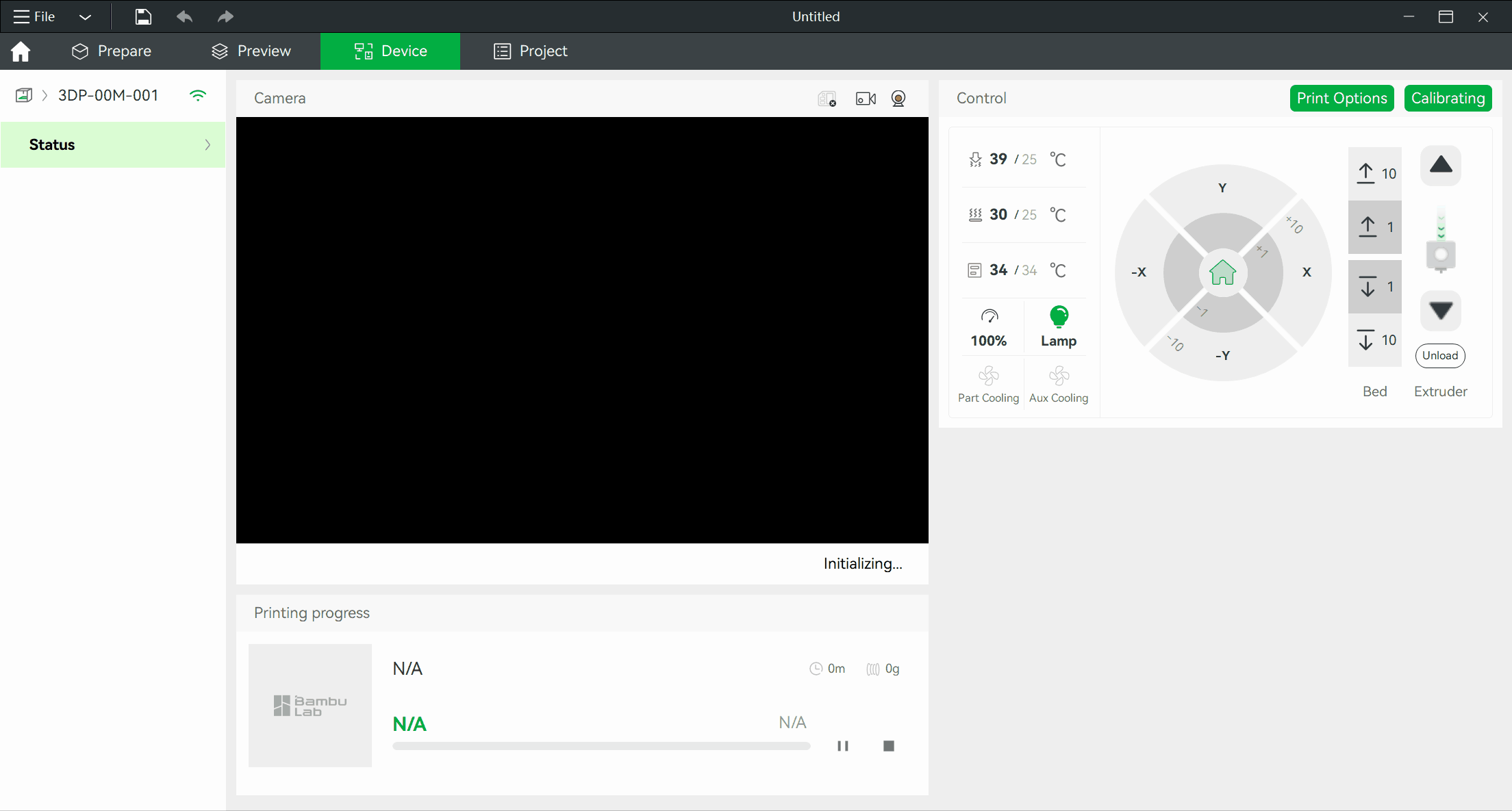 ¶ Main Feature Introduction
After we have finished slicing, we can send the result to the printer for printing; on the print dialog, we can select which printer and also we can choose the filaments in the AMS.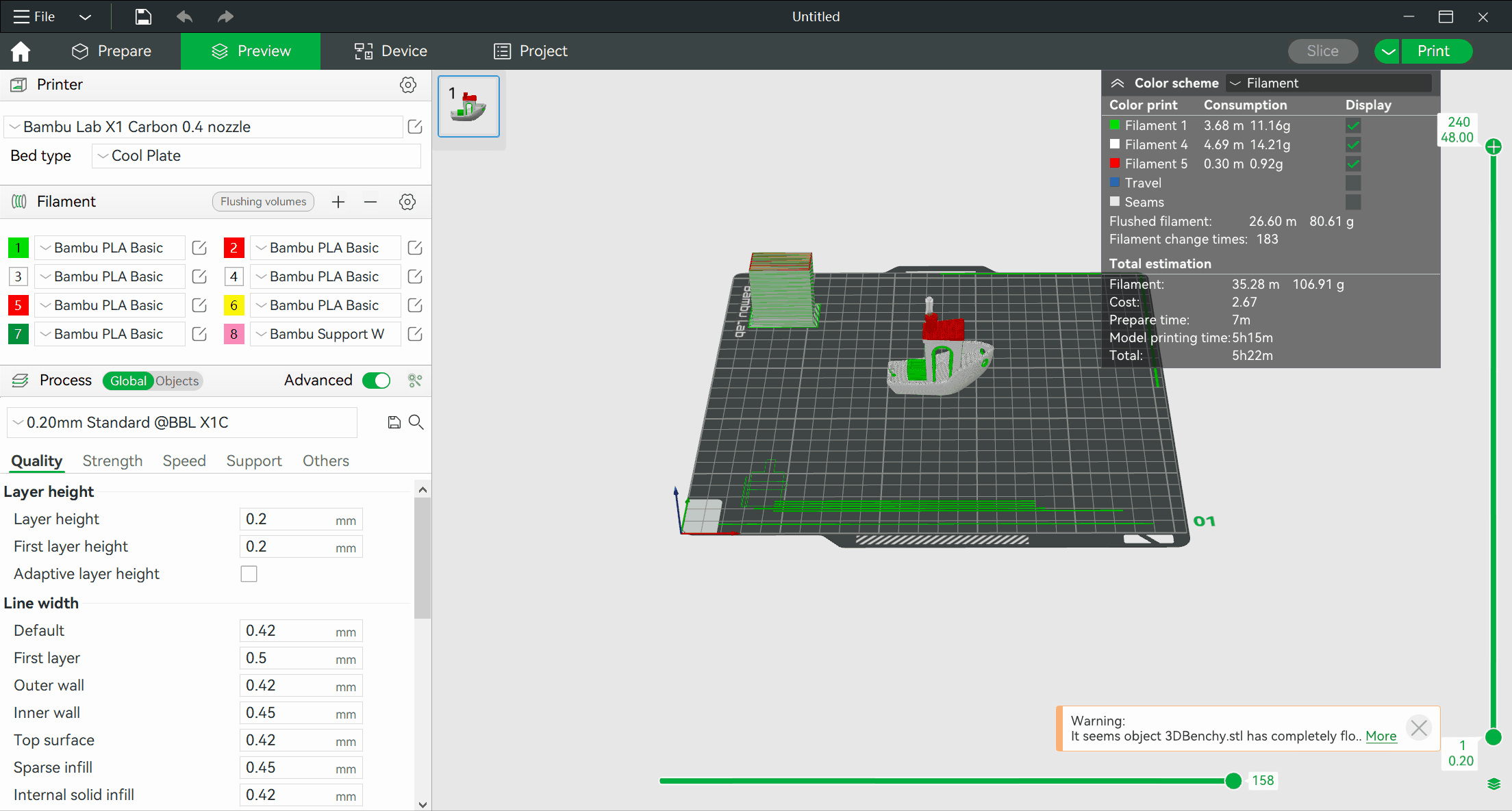 After the printing starts, we can find the 'Printing progress' of the current print job. we can stop or just pause/resume your current print job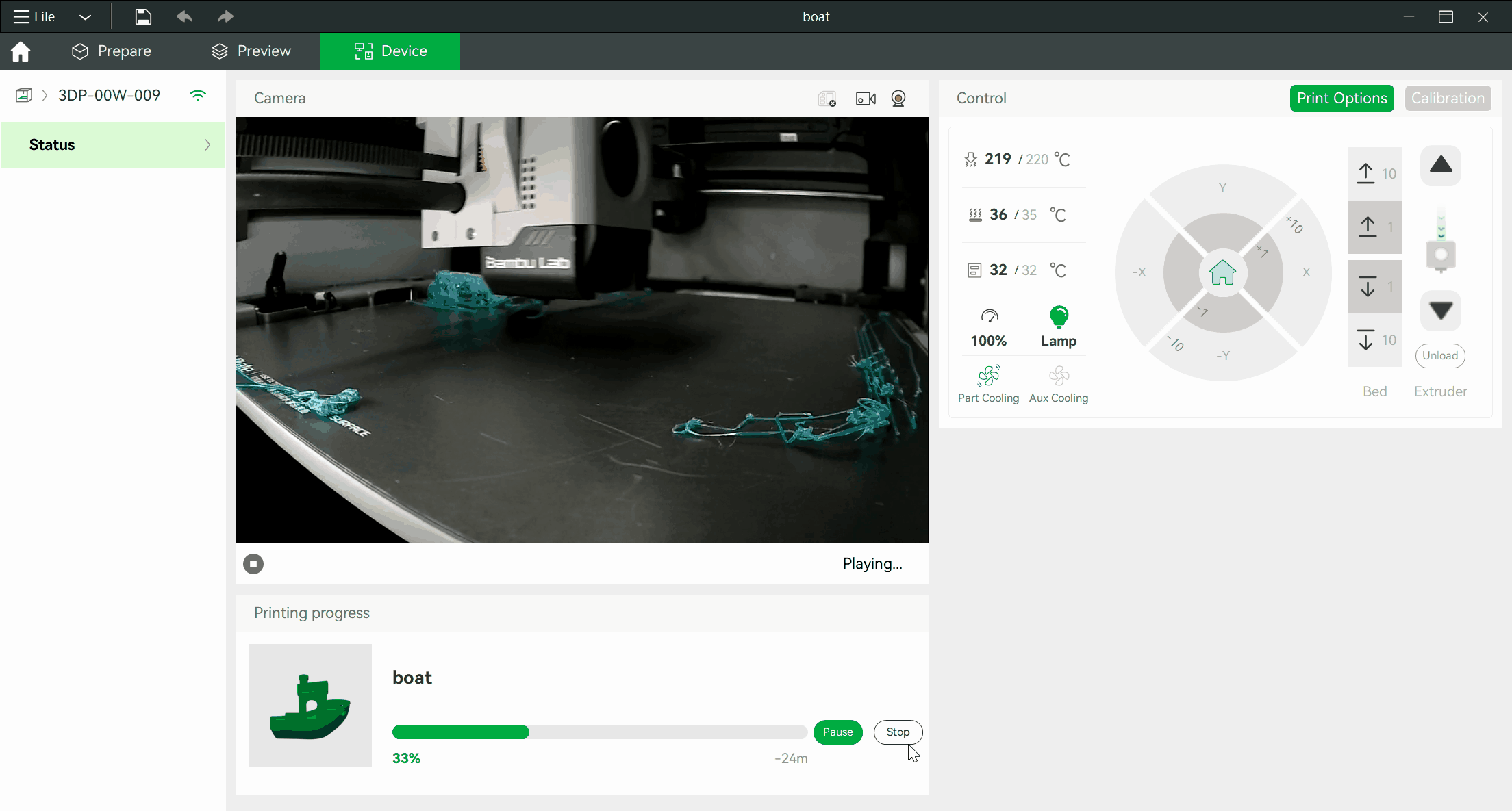 No matter if printing or not, we can monitor the Printer from the "Camera" tab.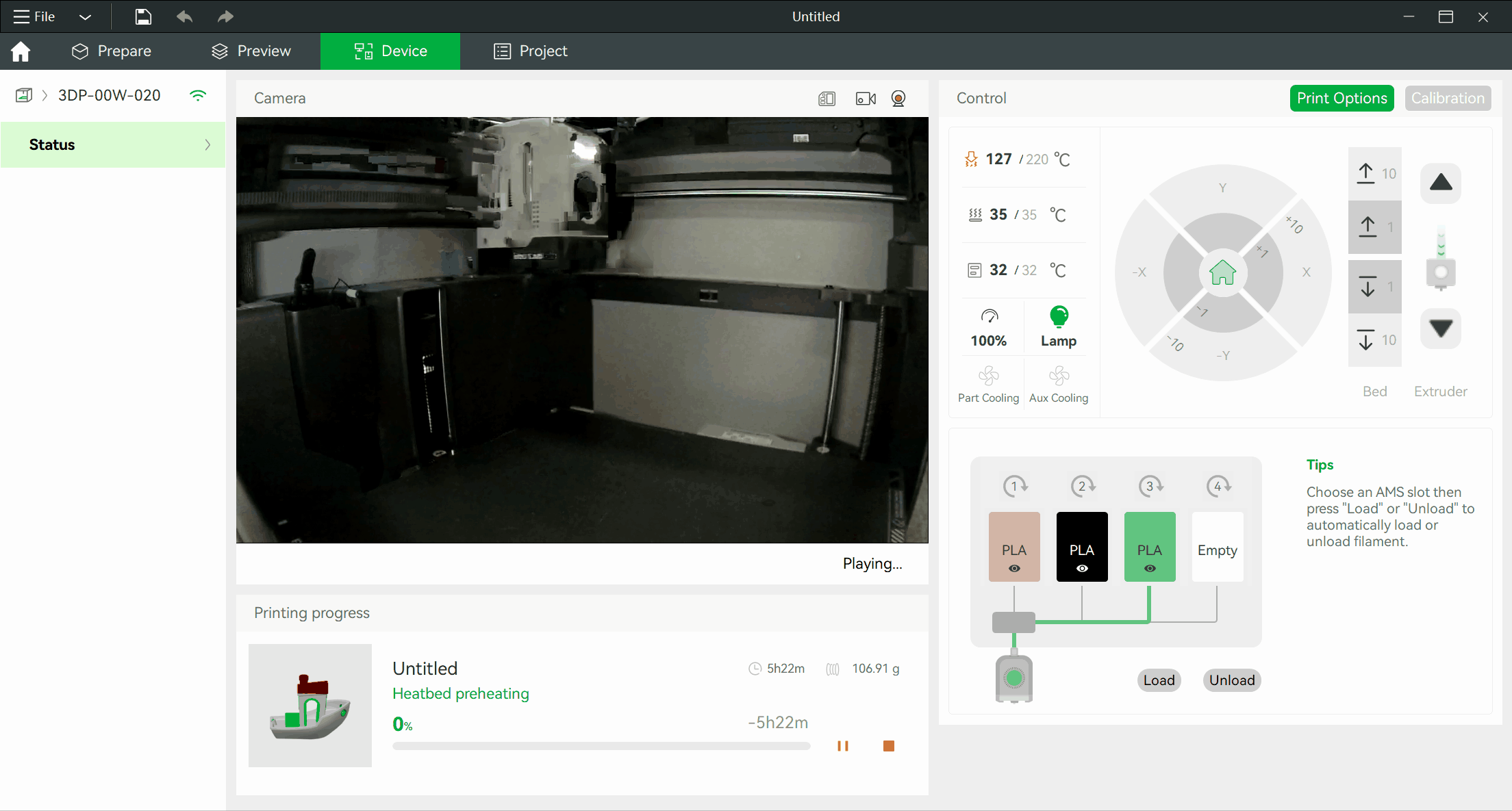 After the printer is selected, we can use the 'Control' widgets in the right panel of the 'Device' Page for the following controls:
X/Y/Z/E move
Bed temperature
Nozzle temperature
Lamp
Aux Cooling Fan
Part Cooling Fan
Speed Level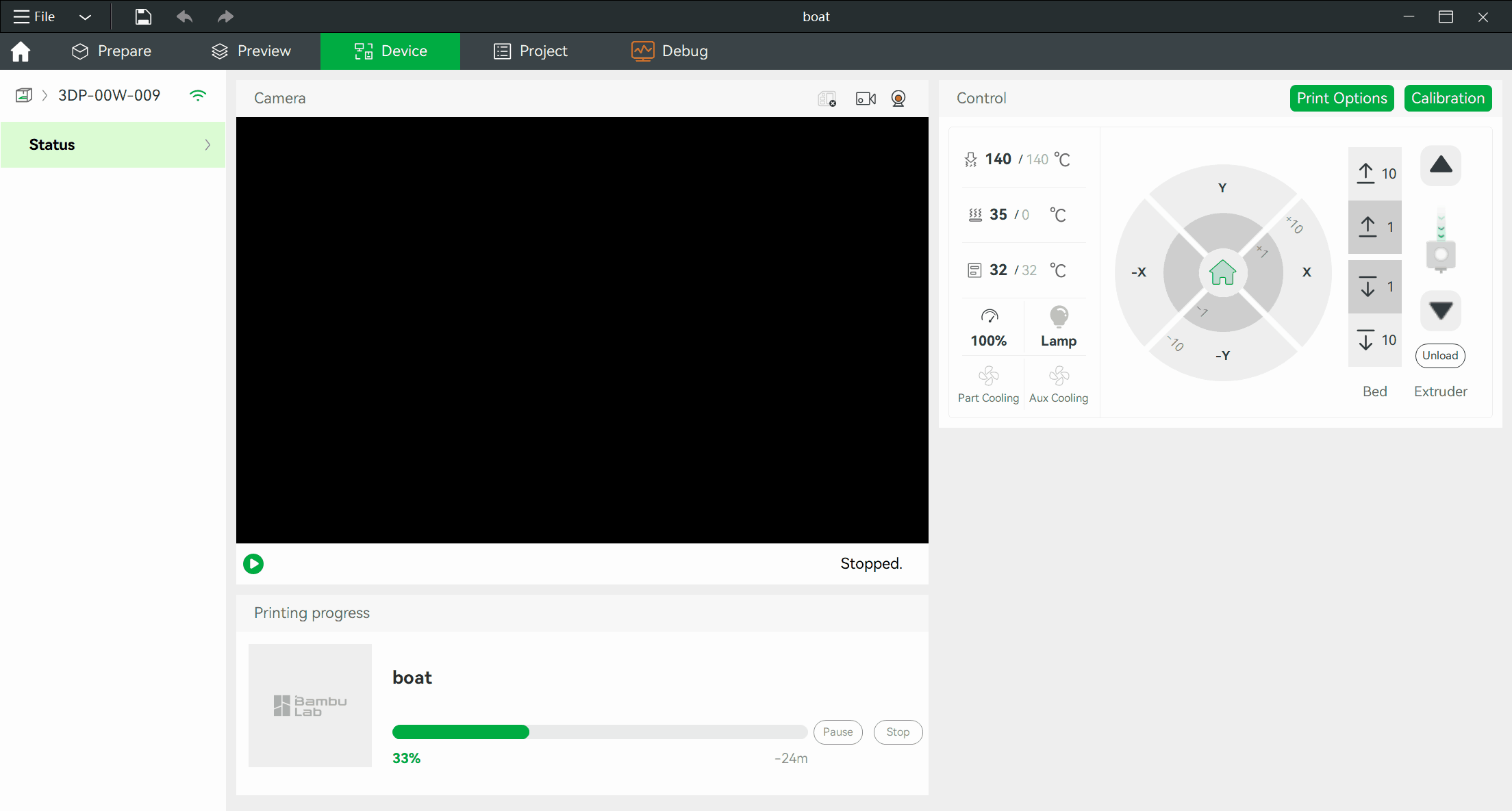 Also, we can use the "Print Options" to set the following options when printing:
Spaghetti Detection
First Layer Inspection
And we can click the "Calibration" button to let the printer do a calibration when not printing.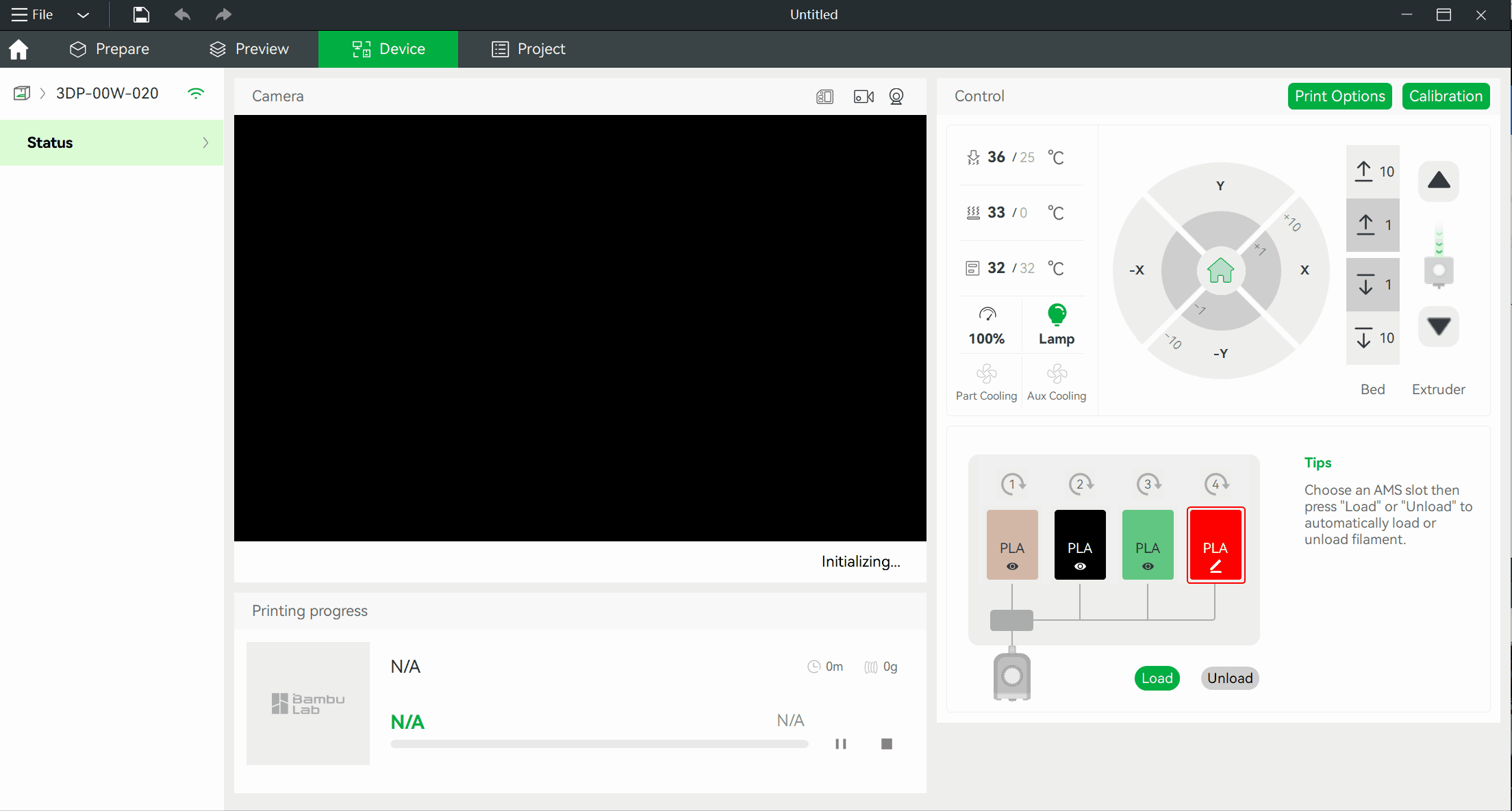 We can set the AMS filament from the AMS widgets in the right panel of the 'Device' Page, when the filament is not recognized automatically; we can also use the 'Load/Unload' button to load/unload filament in AMS.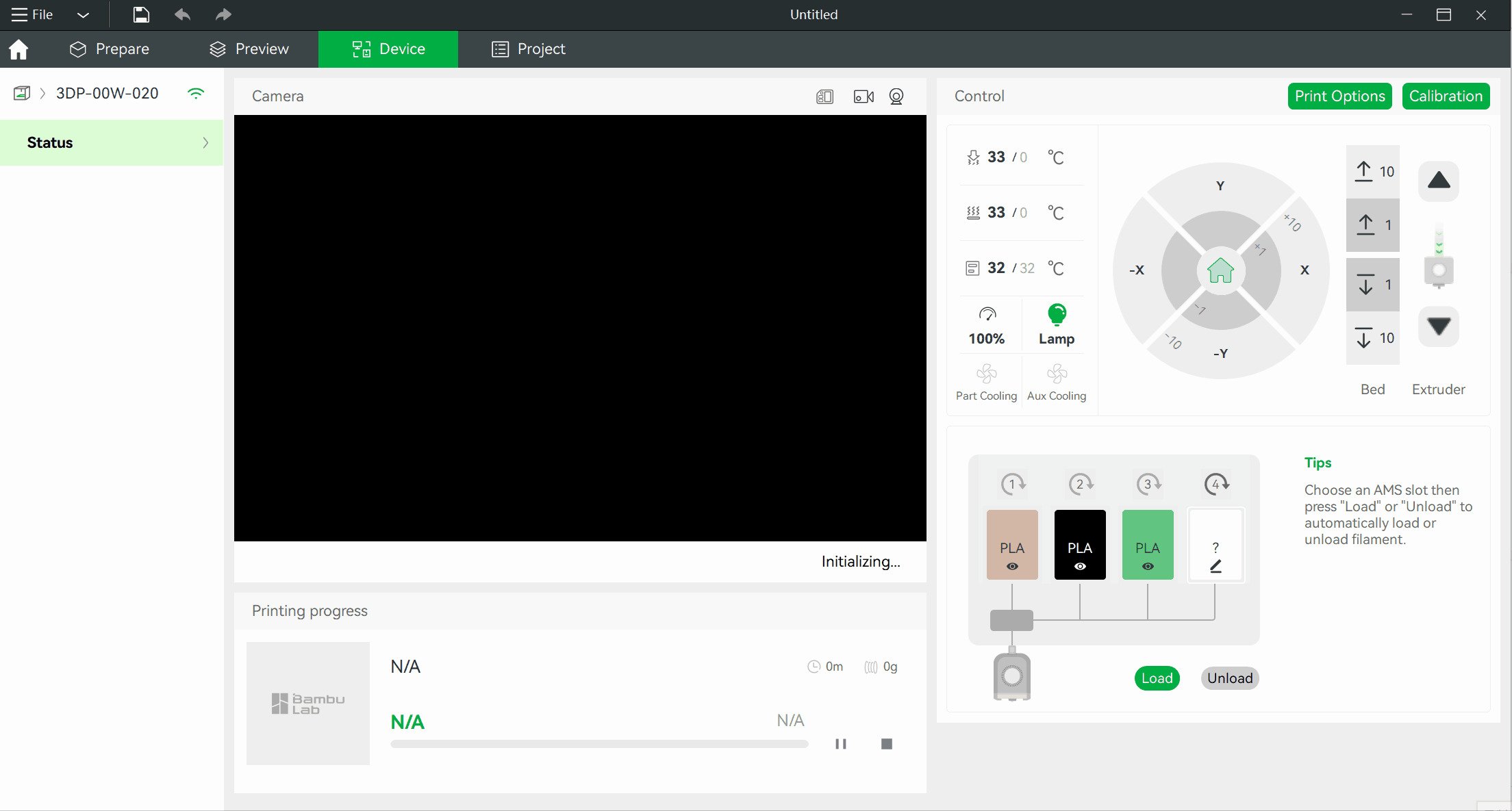 Bambu Studio Supports two network modes:
Auto mode: it communicates with the printer via internet and local area network accordingly
LAN mode: it communicates with the printer via the local area network;
The printer is under Auto mode by default, we can turn on the "LAN Only" option on the Printer from the "Network settings"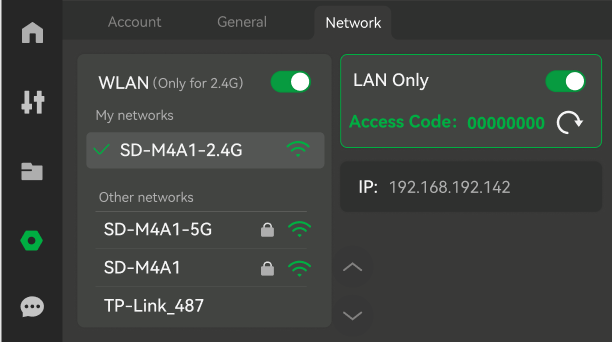 and then bind the Printer by inputting the "Access Code" on Studio.